Peace-2.4Ghz Mouse + Pad Bundle
Model : G7MH-6020P
G-Cube decided to push the boundaries of design with a refreshing new collection- So Happy Together! It's inspired by the song, colors and retro styles of the 60'. Hopefully, the encouraging names of Hope, Love, and Peace will bring a smile to your face.
Product Dimension:
Mouse: 4 x 2.5 x 2.5 in. (101 x 64 x 64 mm)
Mouse Pad: 7.5 x 7.5 x 0.1 in. (190 x 190 x 3mm)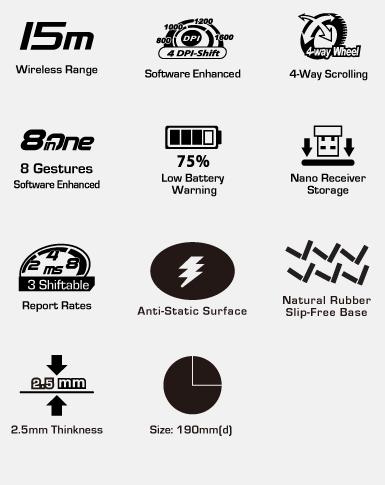 ■ Far Range Up to 15 Meters or 30 feet
Ultra-Far Wireless range ensures more operation freedom.
(Note: Actual operating distance may vary and depend on working environments.)
■ Nano-receiver is Storable for Portability
■ 4 DPI-Shift 800-1000-1200-1600 DPI
■ 3 Shift able Report Rates, Ensures No Lag Response
Instantly shifts mouse report rate between 8/4/2 ms for power saving and delivers smooth, accurate cursor control.
■ Anti-interference with Auto Channel Hopping
Automatically detects and secures available channels in the busy public 2.4GHz universal bands.
■ 2-Way Communication ensure precision
Error correction capability speeds up data transmission without delay and increases wireless precision.
■ 8 Gestures in Right Button
The mouse allows you get 8 functions on "Right" button.
■ Battery Status Indicator
Aware of the battery power anytime with G-Cube's uniquely designed "SmartRight 8"software
■ Unique Mouse Pad Surface Provides Perfect Balance between Friction and Glide
■ Slip-free Rubber Base
■ Anti-static, Durable & Stylish Design
■ Compatible with All Mouse Types: Ball, Laser and Optical.