SecureFit™ Metallic iBuds - Silver
Model : iB-710S
High style and functionality unite to deliver brilliant deep bass driven sound with the goal of providing greater comfort. The G-Cube SecureFIT iBuds is the perfect accessory to match the look of the 2nd generation iPod nano as well as other portable media players.
Product Dimension:
0.6 x 0.4 x 0.4 in. ( 15.25 x 10 x 10mm)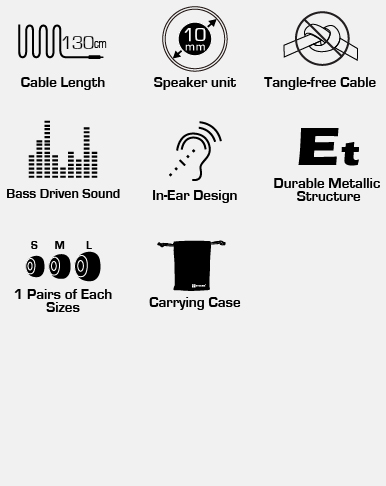 Think Green Oxygen Free Copper and Tangle-Free Cable.

Gold-plated Plug Provides Exceptional Corrosion Resistance.
■ 2 pairs of each sizes provided: S, M, L
■ Carry Case Included
■ Enhanced Bass Driven Sound -
iBuds deliver brilliant highs with a deep bass driven sound for a full-bodied listening experience of the highest caliber!
■ In-Ear Design Blocks out noise
| | |
| --- | --- |
| Speaker | 10 mm |
| Sensitvity | 98 dB ± 2 dB at 1 KHz |
| Impedance | 32 Ω |
| Frequency Response | 20 Hz-20 KHz |
| RMS | 3 mW |
| Plug Type | 3.5 mm |
| Cable Length | 120 cm / 47 in. |
| Weight | 13 g |
| Sleeves Size | S, M, L |
★★★★★

Sep 02 , 2011

Gobolino

0 / 0

found this review helpful

I wanted to buy new headsets for my walkman phone so I can listen my music and what is more important audiobooks when I`m on my way. From various products to choose G-Cube get my attention for it`s design, features and price. So without much hesitation I got one. Much was my surprise when I find additional earplugs that I can change and traveling bag inside box. it will be really useful because usually my earplug cord get messy and transform in different knots. When I first put new earplugs into ear, I was surprised that they are so comfortable and even when just putted them in surrounding sounds was suppressed. The one of main problems with my previous earplugs was that all sounds around me messed with what I listened, and in loud city it is a mayor problem. Next surprise was when I started to listen audiobook that I started previously. Difference was amazing, I actually had to turn audiobook sound three or four levels down because sound was so clear and loud that I don`t need anymore listen it on max sound level. I really looking forward to enjoy using this product, and probably will choose this brand in the future too...