So Happy Together - Hope
Model : G7H-60H
G-Cube decided to push the boundaries of design with a refreshing new collection- So Happy Together! It's inspired by the song, colors and retro styles of the 60'. The encouraging names of Hope, Love, and Peace will bring a smile to anyone's face.
Product Dimension:
4 x 2.5 x 2.5 in. (101 x 63.5 x 63.5 mm)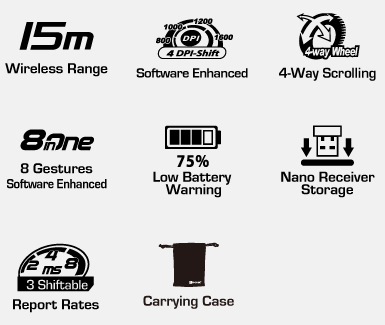 ■ Far Range Up to 15 Meters or 30 feet
Ultra-Far Wireless range ensures more operation freedom.
(Note: Actual operating distance may vary and depend on working environments.)
■ Nano-receiver is Storable for Portability
■ 4 DPI-Shift 800-1000-1200-1600 DPI
■ 3 Shift able Report Rates, Ensures No Lag Response
Instantly shifts mouse report rate between 8/4/2 ms for power saving and delivers smooth, accurate cursor control.
■ Anti-interference with Auto Channel Hopping
Automatically detects and secures available channels in the busy public 2.4GHz universal bands.
■ 2-Way Communication ensure precision
Error correction capability speeds up data transmission without delay and increases wireless precision.
■ 8 Gestures in Right Button
The mouse allows you get 8 functions on " Right " button.
■ Battery Status Indicator
Aware of the battery power anytime with G-Cube's uniquely designed "SmartRight 8"software
So Happy Together - Hope
Models : G7H-60H
Posted : 9/29/2009 12:00:00 AM
Version : V11.08V09
Opreating System : Windows 2000/XP/2003/Vista/Windows 7
Instrctions on How to download and install the driver properly:
1. Press "Download Driver" button to download the desired driver
2. Save it somewhere where you will remember after download. We recommend that you save it on your desktop, so it will be easy to find
3. Open the downloaded file.
4. Follow the on-screen instructions.
5. When it's successfully installed, please restart your computer
6. After you have restarted the computer, connect the product to the PS/2 or USB or Audio port on your computer. Window will now recognize your product
★★★★★

May 17 , 2020

mari

0 / 0

found this review helpful

Excellent, but pleas update for WINDOWS 10 ! It seems doesn′t work properly.