ChatRoom
Model : GMCR-20B
The exclusive ChatRoom Mouse Pad provides the perfect balance between friction and glide for all of ball, optical and laser mouse with anti-static durable design.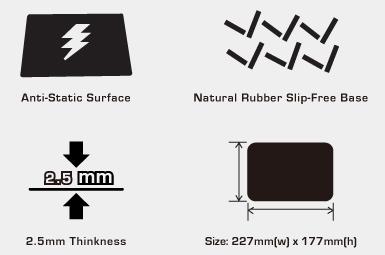 ■ Unique Surface Material Provides Perfect Balance between Friction and Glide
■ Slip-free Rubber Base
■ Anti-static, Durable & Stylish Design
■ Compatible with All Mouse Types: Ball, Laser and Optical.
Rod Sturgess

Aug 23 , 2013

I BOUGHT THE OPTICAL MOUSE PAD. Has anyone there ever used it? I bought it to replace the piece of paper I had on my desk. The mouse cursor will not move when the mouse is slid across your pad. It is obvious you have no idea what you are selling. The mouse pad simply doesn't work. I dug the paper out of the trash and started using it again. I put your mouse pad in the trash.