V-Track 310 - Green
Model : G9V-310G
Innovative V-Track technology utilizes vertical light which goes deep into the details of all surfaces. Vertical reinforced light ensures perfect precision, which guarantees smooth and accurate tracking anywhere, even on furry textiles. It's time to throw away your mouse pad!
Product Dimension:
2.36x 3.74in. (60x 95 mm)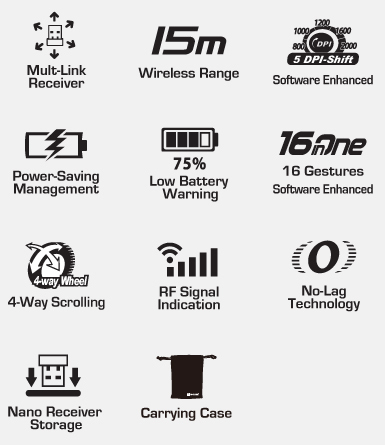 V-Track Mice Features :
■ Short light path:
Less power consumption
■ Vertical reinforced light ensures perfect precision
■ Cursor moves smoothly on soft 3D fabrics
■ Incomparable adaptability on all surfaces
■ Tiny lens aperture prevents dust accumulation
---
Functions :
■ 3 Shiftable Report Rates, Ensures No Lag Response
Instantly shifts mouse report rate between 8 / 4 / 2 ms for power saving and delivers smooth, accurate cursor control
■ 16-in-One
Software " 16 Gestures " provides 16 programmable hotkey commands
■ 0 Lag Technology
Provides smoothest cursor motion
■ 5-DPI Shift
Shift from 800-1000-1200-1600-2000 DPI
■ Anti-interference with Auto Channel Hopping
Automatically detects and secures available channels in the busy public 2.4GHz universal bands.
■ 2-Way Communication ensure precision
Error correction capability speeds up data transmission without delay and increases wireless precision.
■ 8 Gestures in Right Button
The mouse allows you get 8 functions on "Right" button.
■ Battery Status Indicator
Aware of the battery power anytime with G-Cube's uniquely designed " SmartRight 8 " software
■ Additional USB Extension Cable -
Mouse comes with short cable for laptop users. Package includes an additional USB extension cable for desktop users.


■ Travel Pouch -
Provides easy portability while traveling and protects it from scratches
V-Track 310 - Green
Models : G9V-310G
Posted : 10/29/2012 12:00:00 AM
Version : Ver1.0
Opreating System : Windows 2000/XP/2003/Vista/Windows 7
Instrctions on How to download and install the driver properly:
1. Press "Download Driver" button to download the desired driver
2. Save it somewhere where you will remember after download. We recommend that you save it on your desktop, so it will be easy to find
3. Open the downloaded file.
4. Follow the on-screen instructions.
5. When it's successfully installed, please restart your computer
6. After you have restarted the computer, connect the product to the PS/2 or USB or Audio port on your computer. Window will now recognize your product
★★★☆☆

Dec 29 , 2011

Echo

0 / 1

found this review helpful

Perfect design, I like it.