Travel Bass Pocket Speaker
Model : AST-100W
G-Cube's VIVID Elite Bass Portable Speaker is a ideal accessory for music lover, which features revolutionary portable audio technology with built-in bass support and a rechargeable battery for easy use. This speaker is also equipped with a 40mm high-fidelity speaker to ensure smooth delivery of stereo performance, sound reproduce flawlessly.

Premium, Sophisticated, light weight, extendable, the combination of finest quality makes G-Cube's Speaker, is it your best choice for excellence ?
Product Dimension:
(1) Compression: 2.99×2.99×1.06 in. (7.6×7.6 ×2.7 cm)
(2) Decompression: 2.99×2.99×1.65 in. (7.6×7.6 ×4.2 cm)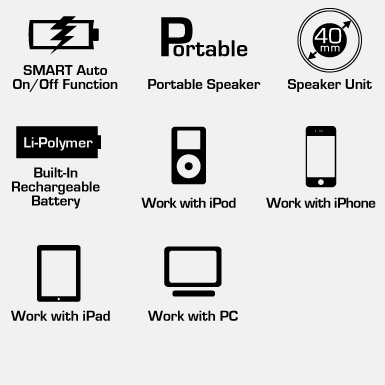 Unlimited Add-On - Connect more than one Travel Bass Speakers with 3.5mm jack to amplify the sound. Compatible with iPad, iPhone, iPod and other 3.5mm standard audio devices.

Supreme Audio - Decompress to enlarge inner space and provides better clarity and more powerful bass.

Silicon Base Design - The base features silicon material to avoid soufflé from vibration during playback.
■ Smart Auto On/Off Function
■ 40mm HiFi stereo performance, flawless sound reproduction.
■ Power Indicator LED
■ Takes 2 hours to Completely Recharge with USB Power and more than 10 hours continuous Play
---
Specification :
■ Power: 3W max
■ Signal to Noise Ratio: > 80 dB
■ Frequency Response: 100 Hz - 20 KHz
■ Disstortion: < 10%
■ Battery: Li-ion Polymer, 3.7 V, 400 mAh
■ Battery Charging Voltager: 5 V
■ Play Time: 10 hours
■ Charger Time: 2 hours