Secret Garden
Model : GLBW-73SG
Add a touch of elegance to your computer peripherals with the Black and White Collection. The alluring designs will bring a sophisticated look to your desktop or notebook computer.
Product Dimension:
3.8 x 1.4 x 2.4 in. (96.5 x 35.5 x 61 mm)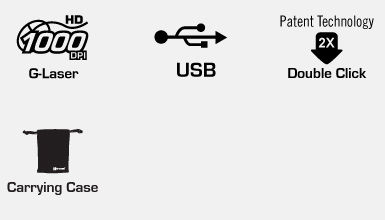 ■ Cable Management -
Retractable and extendable up to 28 inches.


■ 1000 DPI G-Laser Works on 99% of all Surfaces Even TRANSPARENT Glass -
Safer than Normal Laser Mouse. The Light from G-Laser Mice is Proven to be Harmless to Eyes.


■ Double Function Scroll Wheel -
Quiet scrolling wheel is also a programmable button


■ Patent Technology 2X Button -
Just one click directly opens files and programs


■ Travel Pouch -
Provides easy portability while traveling and protects it from scratches
Secret Garden
Models : GLBW-73SG
Posted : 5/27/2008 12:00:00 AM
Version : V7.8
Opreating System : Windows 98SE / ME / 2000 / XP/ MCE2005 / XP(x64) / 2003(x64) / Vista
Instrctions on How to download and install the driver properly:
1. Press "Download Driver" button to download the desired driver
2. Save it somewhere where you will remember after download. We recommend that you save it on your desktop, so it will be easy to find
3. Open the downloaded file.
4. Follow the on-screen instructions.
5. When it's successfully installed, please restart your computer
6. After you have restarted the computer, connect the product to the PS/2 or USB or Audio port on your computer. Window will now recognize your product
★★★★★

Mar 02 , 2017

Jeremy

0 / 0

found this review helpful

Love this mouse! Im complete handicapped without it. But...... its having some isues...... Windows can register the mouse, and i even download the driver. Still wont work... So... i, only asking you guys if you know what to do!