Strawberry 5M Notebook Web Camera
Model : GWJT-835SR
Make video calls without the hassle of installing software driver! USB 2.0 web camera provides ultra smooth videos at up to a true 1.3 mega pixels sensor. Enjoy 5.0 Megapixel clear image quality with software installed. Featuring a built-in microphone that ensures everyone can take part in the conversation.
Product Dimension:
2.35 x 2.2 x 1 in. ( 57 x 56 x 25 mm )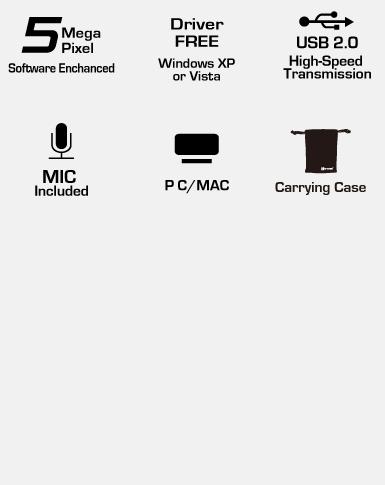 ■ Simulate Resolution up to 5 Mega Pixel (Software Enchanced)


■ Plug-and-Play Video Calling -
Make video calls without installing software. Just connect the Web Camera to get started.


■ Built-in MIC -
Ensures everyone can take part in the conversation.


■ USB 2.0 High Speed Transmission -
30fps digital video streams in top quality images.


■ Image Editing Software Included -
Enhance your photos by modify lighting, add a boarder, enlarge, crop,and many more.


■ PC & MAC Compatible -
Compatible with PC & MAC (Check System requirements Section).
Strawberry 5M Notebook Web Camera
Models : GWJT-835SR
Posted : 10/5/2007 12:00:00 AM
Version : V1.0
Opreating System : Win98, Win2000, WinME, WinXP(SP2), Win2003,X64bit,Vista 32 bit
Instrctions on How to download and install the driver properly:
1. Press "Download Driver" button to download the desired driver
2. Save it somewhere where you will remember after download. We recommend that you save it on your desktop, so it will be easy to find
3. Open the downloaded file.
4. Follow the on-screen instructions.
5. When it's successfully installed, please restart your computer
6. After you have restarted the computer, connect the product to the PS/2 or USB or Audio port on your computer. Window will now recognize your product